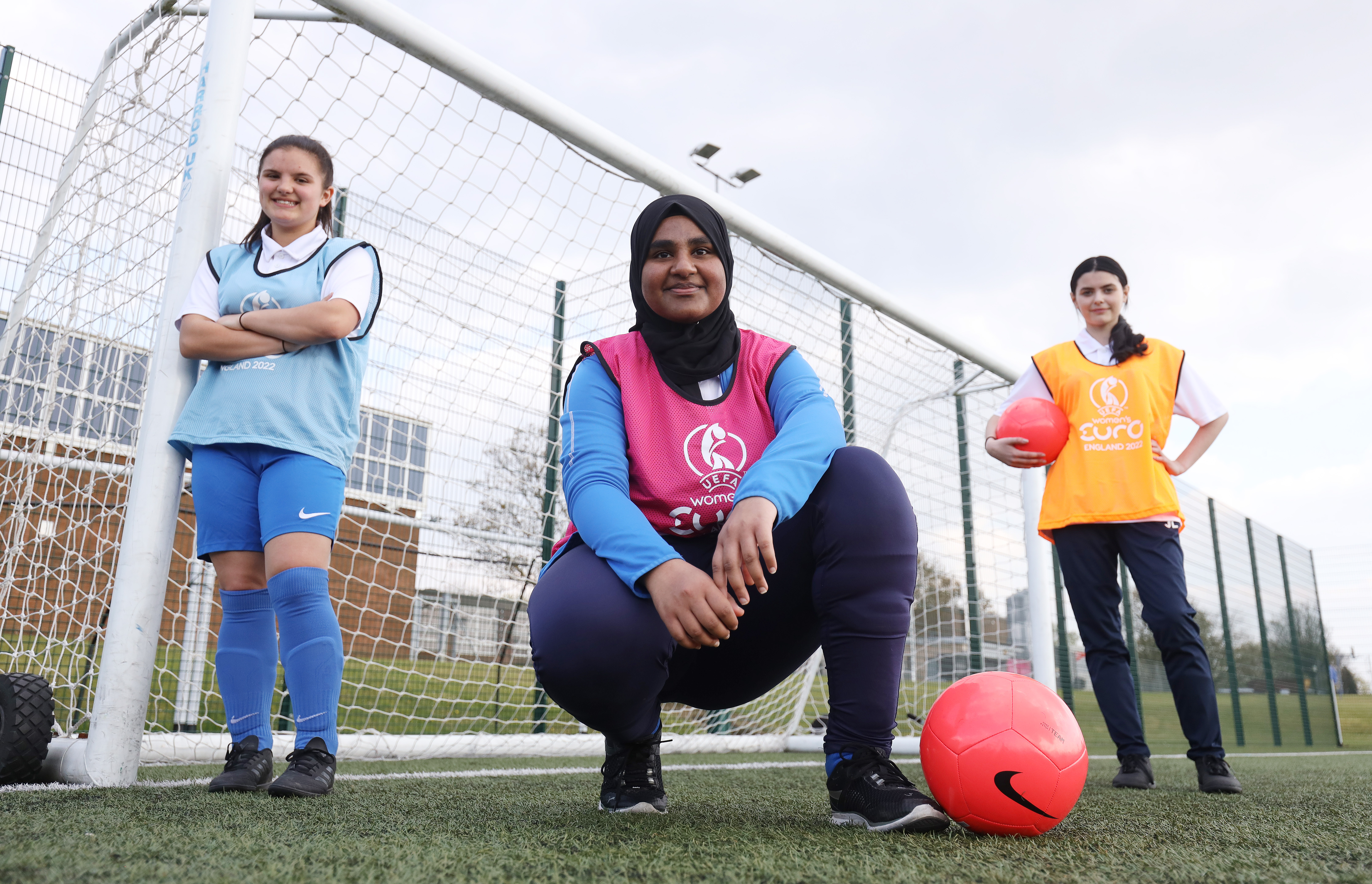 Legacy Programme
Inspiring a generation!
UEFA Women's Euro 2022 is a huge opportunity for women and girls across Manchester and Trafford to get inspired and engage with the game to not only accelerate the growth of the female game across players, coaches, referees and volunteers but to also highlight all the physical and mental benefits too. Check out some of the ways we are inspiring positive changes below.
READ MORE ABOUT THE LEGACY PROGRAMME HERE
Role Models Campaign
The UEFA Women's Euro's 2022 is coming to Manchester and Trafford and provides us with the unique opportunity to inspire the next generation of female footballers. We want to grow and develop future leaders of the female game to ensure that women and girls in Greater Manchester have role models they can relate to and aspire to be.
The UEFA Women's Euro 2022 Role Models campaign will highlight female role models within both grassroots and elite football here in Greater Manchester, sharing stories of their experiences to inspire and educate the different roles and opportunities within the game.
Women's Flexi League
A recreational small sided mini league created for Women and Non-binary individuals to participate in to meet and interact with like minded individuals who share a love for the game as well as enjoyable way to engage a healthy active lifestyle through football.
Off the back of a very successful Summer Series which saw 10 teams compete on a weekly basis for 6 weeks in a competitive 5-a-side league, the Manchester Women's Summer Series is now a 9-a-side, flexi league with two divisions and has over 300 female participants.
Young Female Coach Development Programme
We launched our Young Female Coach Development Programme which saw 10 females aged 14-17 years old take part in a number of coach development CPD events and gain valuable experiences in local Wildcat Providers. They all received kit and an equipment pack to get their coaching journeys started, and all will complete the FA BT Playmaker and Introduction to a Coaching Football course as part of the programme. For more information on this for next season, please contact olivia.laiker@manchesterfa.com
HE internship Programme
We launched our HE Internship Programme for 8 female students from Manchester based universities in a variety subject area's such as sport development, media, sports science, coaching and event management. Individuals were housed in organisations such as McrActive, Manchester City Academy, MHIP, MMU High Performance Centre & Manchester FA and took part in a range of CPD events, For more information on this for next season, please contact leigh.gell@manchesterfa.com.
Soccercise at Khizra Mosque
In light of recent findings participation of Asian women within football is significantly lower across Greater Manchester, we began working with Khizra Mosque in Cheetham Hill. To offer a 30 minuet Soccercise session, to show that football is truly a sport that can be played and enjoyed by all. Read more about the success of the #WEURO2022 Legacy Soccercise sessions below.