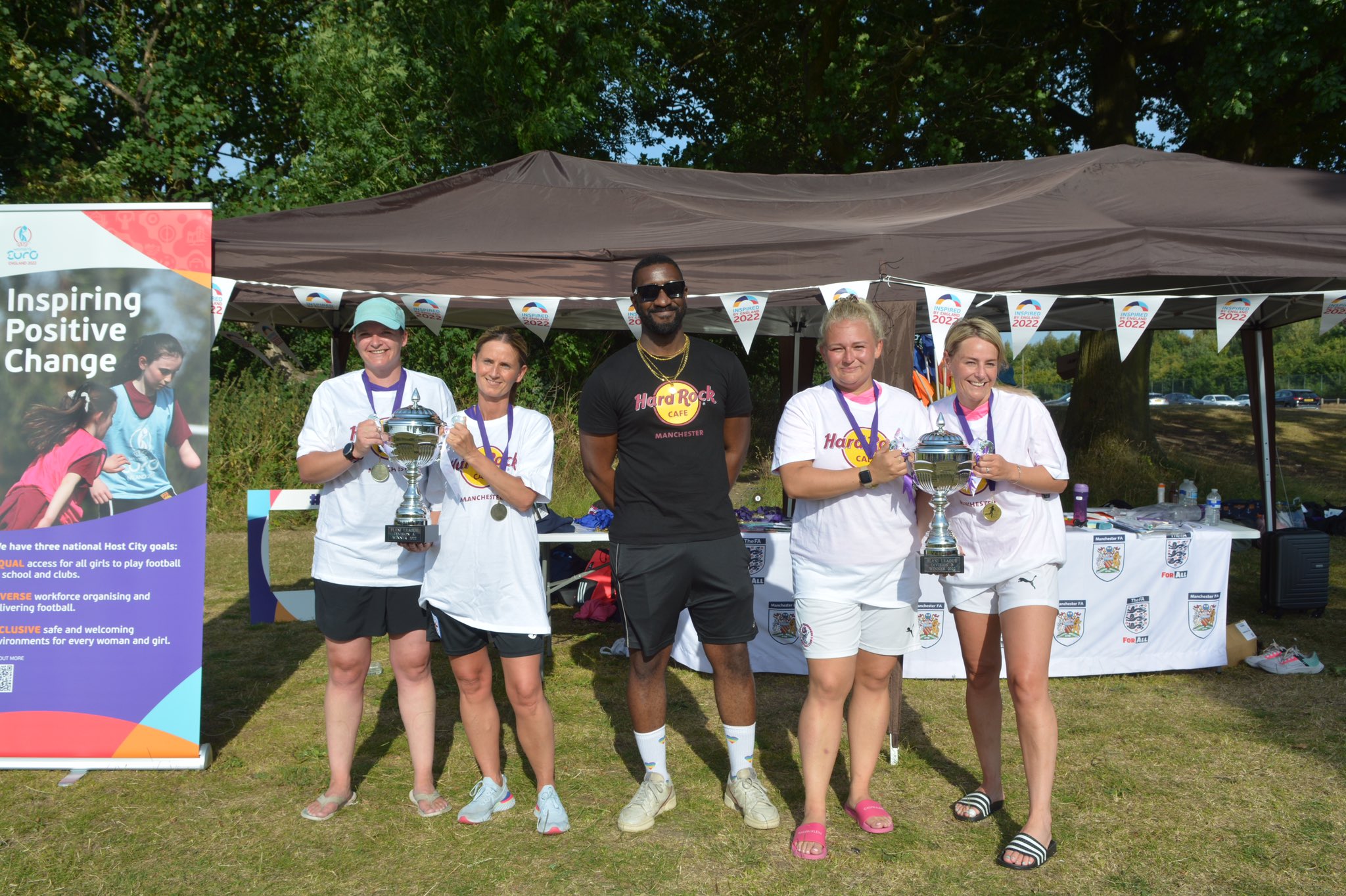 What A Result!
Hard Rock Cafe Mancehster Sponsors Manchester FA Women's Flexi-League
As the city welcomes thousands of fans for this summer's UEFA Women's Euro 2022 tournament, Hard Rock Cafe Manchester has announced its support for women's grassroots football, by sponsoring the Manchester Women's Flexi-League.
The exciting league, which launched in 2021, attracts footballers from across Greater Manchester, and currently features over 320 players aged 16-65, in 16 teams across two divisions. 'Flexi-Football' allows the women to play at times and places which are convenient to them.
Interest and demand in the league has been so great that there are already plans to expand to 20 teams and three divisions for the 2022/23 season.
As part of the sponsorship deal, this year's division winners will receive Hard Rock Cafe branded training tops to wear next season.
Leigh Gell, Women's Football Recreational Officer at Manchester FA, said: "It is brilliant to see that Hard Rock Cafe Manchester is keen to support the local community by sponsoring the Manchester Women's Flexi-League; they have been keen to get involved and learn about the challenges women face within the grassroots community.
"Thanks to their support, we will be able to grow the league even further for next season and we look forward to continuing the UEFA Women's EURO 2022 legacy for years to come."
Aneta Jarzmik, General Manager of Hard Rock Cafe Manchester, commented: "With Euro 2022 matches taking place at Old Trafford and such a thriving women's game at grassroots, sponsoring the Flexi-League was too good an opportunity to miss.
"As well as having global superstar Lionel Messi as our brand ambassador, Hard Rock Cafe has strong historical ties with football - our iconic Hard Rock graphic T-shirts were born somewhat by accident, when founders Peter Morton and Isaac Tigrett made them for a local football club they supported, and gave away the leftovers to patrons."
The Manchester Women's Flexi-League is part of the wider Euros Legacy work; for more information go to www.manchesterfa.com/uefa-womens-euro-2022
TO BOOK A TABLE CLICK HERE

Picture shows: Atem Eyong (Hard Rock Cafe Manchester, centre) with members of the Manchester Women's Flexi-League: (left to right) Sarah Jones, Mandy Walsh, Katy Clay, Caroline Price.